SCANNER ITERO ELEMENT FLEX
MEDIT i500 SCANNER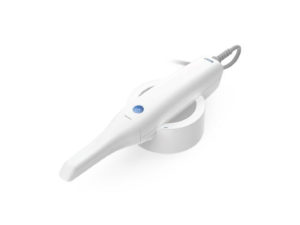 Image capture is performed directly in the oral cavity; eliminating clinical steps and avoiding errors caused by distortion of molding materials and model making.

This technique provides greater comfort to the patient, eliminating the need for a tray, impression materials and plaster models.

The intraoral scanner can be divided into two primary units: the operational unit composed of the optical reader and the processing control monitor that guides the professional during the acquisition of images.

Through the optical reader, a light falls on the patient's intraoral anatomical structures, which is reflected and captured by a sensor that has a fixed distance and calculates the angle of reflection of the incident light beam through a process called – triangulation.
ITERO ELEMENT FLEX SCANNER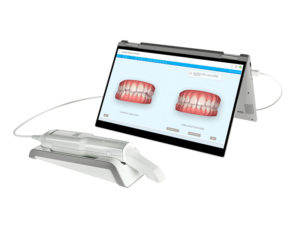 Align Technology, the North American company that makes the Invisalign aligner, launched the iTero intraoral scanner. This device ensures the scanning of the patient's mouth in 60 seconds and presents a treatment plan with simulation of results in just 30 seconds. This analysis, after intervention by the orthodontist, will be sent directly from the equipment to Align technicians who start making the Invisalign appliance.

ITero has three softwares: Time Lapse, Outcome Simulator and Results Analysis. Time Lapse shows the problems found in the patient's dentition. Outcome Simulator displays the current situation of the teeth and how they will look at the end of the intervention, all in 3D images. The Progress Analysis software checks whether the treatment is progressing as expected.

ITero facilitates the understanding of the proposed treatment, making it possible to send the images to the patient's WhatsApp so that he can share them with family and friends, thus helping him to decide to proceed with the treatment.
NSK VARIOS COMBI PRO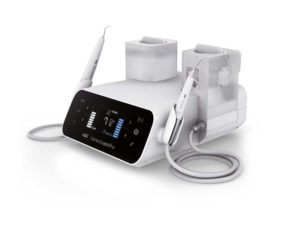 This new device that combines ultrasonic cleaning and air polishing for prophylactic treatments with greater efficiency and comfort in oral hygiene and plaque control.

The ultrasonic device incorporates the advanced NSK iPiezo mechanism, which removes calculations, both soft and hard, easily and comfortably, activating the tip according to the applied pressure. In addition, the unit has state-of-the-art software to maximize performance and minimize patient discomfort.

Automatic adjustment adjusts the oscillation frequency to provide the desired power to the tip. Detachable camera and handpiece make it easy to switch between supragingival and subgingival applications and make the unit extremely user and maintenance friendly
NSK OSSEO 100

The Osseo 100 equipment measures the resonance frequency that translates the implant's stability and osteointegration, helping in deciding when to load the implant. Especially important in protocols with shorter waiting times and in the treatment of patients at higher risk.

The knowledge of ISQ – Implant Stability Quotient translated by Implant Stability Quoefficient allows the implant loading period to be planned in advance; it is possible to predict the placement of crowns and bridges with less risk of failure.

Measurements can be made without unnecessary impact, as the equipment does not come into physical contact with the implant or abutment.